LEZIONI DI PATTINAGGIO
Zack Rogow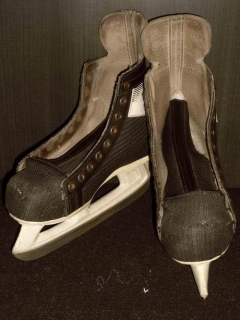 Mi trascino la figlia di sei anni attorno alla pista,
scioccata dal ghiaccio,
da come isola ogni individuo –
la giacca a vento gialla,
le muffole azzurre,
il berretto di lana rosso
contro uno sfondo bianco
come lo studio di un fotografo.
Mia figlia mi scorre
accanto, imparando a pattinare
mentre le tengo la mano. Me la stringe
più forte quando ha paura
che i piedi andranno da soli.
Le nostre lame disegnano linee d'argento
che s'incrociano.
E' stato solo ieri che le detto
che lasciavo la mamma.
"Come si scrive ODIO?"
mi ha chiesto dopo
scribacchiando la domanda
sul rotolo degli scontrini di cassa.
Ma oggi mia figlia sta veramente pattinando
accanto a me, facendo i primi passi
traballanti da sola,
senza tenermi per mano. Mi spiega
come lo farà:
"Quando sei vicino a me farò finta
che non ci sei. Quando non ci sei
farò finta che ci sei."
-----------------------------------------
In lingua originale:
SKATING LESSONS
Zack Rogow
I tug my six-year-old around the rink,
shocked by the ice,
how it isolates each individual—
that yellow parka,
those blue mittens,
the red-knit cap
against a backdrop white
as a photographer's studio.
My daughter flows along
next to me, learning to skate
as I hold her hand. She tightens
her grip when she's frightened
her feet will go off on their own.
Our blades draw silver lines
that criss and cross each other.
Just yesterday I told her
I was leaving her mommy.
"How do you spell HATE?"
she asked me afterwards,
scribbling a note to me
on a scroll of register tape.
But today my daughter is really skating
at my side, taking her first shaky
steps on her own,
without holding my hand. She explains
how she'll do it:
"When you're near me I'll pretend
you're not here. When you're not here
I'll pretend you are."
---


Traduzione di Pina Piccolo.
---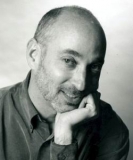 Zack Rogow è un poeta e traduttore. La sua sesta raccolta di poesia s'intitola The Number Before Infinity (2006). Ha curato l'antologia di poesia statunitense The Face of Poetry e insegna in un programma di Master di scrittura al California College of the Arts e all'Università di Alaska, Anchorage.