IL CANTORE DI IMPALPABILI INCENDI DI MACCHIA
Will Alexander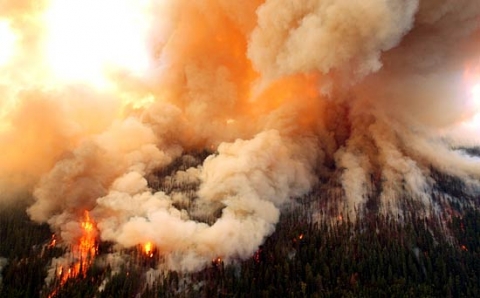 No
non è di urne cantore
né ha rapporti di alcun tenore
con le forze negative dell'estinzione
è cantore di incendi di macchia
e dal cuore proietta
il suono di subdole subduzioni
scialbe anomalie come postura
di densità opaca quanto la cenere
le distanze egli
prende dal prono balbettio ventriloquiale
dalla carne
& dall'usitato
& dall'arsura
è performer
parte Poltergeist e Orisha
parte rodata colomba cellulare
parte sguardo di bastioni mongoli galleggianti
le cui spire sono butano
i cui frattali fotografici sono stati impiantati con l'ipnosi
perché si dice che egli incarni
una necrotica terra d'ombra verde
simile più a un flash verticale o farad
che si atteggia a tempesta in un cromato palazzo umano
quindi ha il suono
secco del simoom, vento desertico di sfida
una tormenta d'uccelli arsa dal tocco di antichi vortici
poiché emana odor di tempesta
questo Orisha universale
come un sole che precipiti da un terriccio di oscurità
dalle somme idrogenate de-produttive
da fessure senza luce che fuori dal pianeta ribollino
sì
canta in un certo tono
che si è evoluto oltre il campo del vasaio
oltre la tragica cirrosi del colibrì
superando il difetto primordiale
superando il fuoco che si leva nella insostituibile disgiunzione
sotto certe formazioni zodiacali è apatico
intona senza impatto
le sue sinodiche rivelazioni non più della legge
di destinazioni palpabili e misurabili
perché canta in silenzio tale
che perfino i saggi poeti vedici Rishi non possono ignorare
come se
il potere vuoto che dal nulla si re-innalza
in perpetuità persuada
come vuoto che divida dentro l'arco rotatorio di una
intangibile candela solare
tale potere non si può confusamente ri-tracciare
perché
adombra & arde
come un glossario di soli
così che ogni trapanatura virale
ogni fucina
è una colata di un sentimento
che insatura una pressione
porta in lontananza una polarità celata & elisa
come una capacità soggettiva
corrosa & avanzata
egli canta
oltre la stretta del nesso paralitico
dove si sposta il sangue
oltre il magnete di volume
dove i nervi non più risuonano
dentro un labirinto ottagonale
punto da piranhe alla sorgente
-----------------------------------------
In lingua originale:
THE IMPALPABLE BRUSH FIRE SINGER
Will Alexander


No
he is not an urn singer
nor does he carry on rapport
with negative forces within extinction

he is the brush fire singer
who projects from his heart
the sound of insidious subduction
of blank anomaly as posture
of opaque density as ash

he distanced from prone ventriloqual stammer
from flesh
& habit
& drought

the performer
part poltergeis & Orisha
part broken in-cellular dove
part glance from floating Mongol bastions

where the spires are butane
where their photographic fractals are implanted with hypnosis

because he allegedly embodies
a green necrotic umber
more like a vertical flash or a farad
posing like a tempest in a human chromium palace

therefore his sound
a dazed simoom in a gauntlet
a blizzard of birds burned at the touch of old maelstroms

because he gives off the odour of storms
this universal Orisha
like a sun that falls from a compost of dimness
out of de-productive hydrogen sums
out of lightless fissures which boil outside the planet

yes
he sings at a certain pitch
which has evolved beyond the potter's field
beyond a tragic hummingbird's cirrhosis
surmounting primeval flaw
surmounting fire which forms in irreplaceable disjunction

under certain formations of the zodiac he is listless
he intones without impact
he synodic revelations no longer of the law
of measured palpable destinations
because he sings in such a silence
that even the Rishis can't ignore

as though
the hollow power which re-arises from nothingness
perpetually convinces
like a vacuum which splits within the spinning arc of an
intangible solar candle

such power can never be confusedly re-traced
because
it adumbrates & blazes
like a glossary of suns
so that each viral drill
each forge
casts a feeling
which in-saturates a pressure
bringing to distance a hidden & elided polarity

like a subjective skill
corroded & advanced
he sings
beyond the grip of a paralytic nexus
where blood shifts
beyond the magnet of volume
where the nerves no longer resonate
inside an octagonal maze
stung at its source by piranhas

(from Above the Human Nerve Domain, 1999)
---


Poesia tratta dalla raccolta Above the human nerve domain, pavement saw press, 1998. Traduzione di Pina Piccolo.
---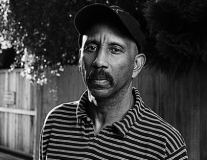 Nato nel 1948 a Los Angeles nel cuore del quartiere afroamericano di South Central, Will Alexander è un poeta, romanziere, saggista, drammaturgo e artista visivo. Le sue opere sono profondamente influenzate dalle letture di Bob Kaufman, Octavio Paz, e dai poeti francofoni della Negritude come Aimé Cesaire e Jean-Joseph Rabéarivelo. Alexander descrive le loro tematiche di isolamento cosmico dalla società e scoperta interiore in termini di "metamorfosi alchemica". A proposito della sua raccolta Above the Human Nerve Domain il critico Harryette Mullen scrive, "Il dominio della curiosità agitata del poeta Will Alexander va dai ghiacciai dell'Himalaya alle savane africane, dalla fisica, astronomia e musica all'alchimia , filosofia e pittura. Gli Orisha, gli angeli e i fantasmi cantano a questo poeta, istruendolo nell'arte del volo verbale. "Tra le sue opere: Vertical Rainbow Climber (1987), Arcane Lavander Morals (1994), The Stratospheric Canticles (1995), Asia & Haiti (1995), Above the Human Nerve Domain (1998), Toward the Primeval Lightning Field (saggi, 1998), The Sri Lanka Loxodrome (2010) e Compression & Purity (2011).