SOTTO NOMADE TUTELA
Meena Alexander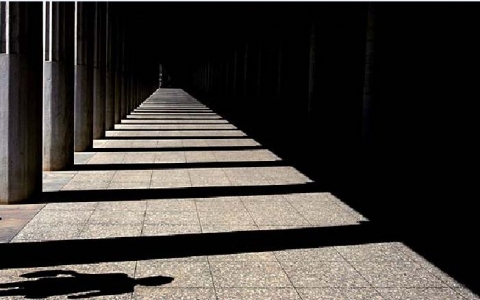 - In memoria di Audre Lorde, 1934-1992
Sbatti la testa contro la porta
E la rialzi, gesto antico, ineludibile.
Osso illividisce il legno, e spunta la lirica,
cappuccio di seta.
Gamba Adisa, sei venuta a dirci
La paura è un paese senza visto d'uscita.
Mi hai insegnato a portare farina stantia per il fuoco,
setacciare mucchietti di cenere, raccogliere sillabe, verde fuso,
Cozzando frasi storte,
Tento di ricordare che colore aveva la tua faccia.
Era più chiara della mia?
Aveva il colore dell'East River
Quando il sole cala nel suolo
E io bambina accanto al pozzo mi imbottisco la bocca di pietre?
Così l'oscurità incorona le acque
E la cruda risurrezione della carne disturba la vista.
Prima che spuntasse luce
avremmo viaggiato in una lingua straniera.
Ti sento e sono più vecchia
Dei raggi di luna traversati a nuoto dalle rondini.
Lo schiamazzo dei falchi segna i quattro punti della bussola,
Sotto la nomade tutela del cactus e della rosa
Bastoni smussati fanno sgorgare il sangue,
E lanciano reti di sogni verso sponde opposte salate.
___________________________
In lingua originale:
From Meena Alexander, Quickly Changing River (TriQuarterly Books/ Northwestern University Press, 2008)
–
In memory of Audre Lorde, 1934 - 1992
You strike your head against a door
And pluck it back again, ancient gesture, ineluctable.
Bone bruising wood, and the lyric rears itself,
A silken hood.
Gamba Adisa ,you have come to say
Afraid is a country with no exit visas.
You taught me to fetch old meal for fire,
Sift through an ash heap, pick syllables, molten green,
Butting sentences askew.
I try to recall the color of your face.
Was it lighter than mine?
Was it the color of the East River
When the sun drops into soil
And I a child by the wellside pack my mouth with stones?
So darkness crowns the waters
And the raw resurrection of flesh unsettles sight.
We would journey
Before light into a foreign tongue.
I hear you and I am older
Than moonlight swallows swim through.
Cries of hawks mark out four points of the compass,
Nomadic tutelage of cactus and rose.
Blunt rods strike blood,
Toss nets of dreams across salt shores.
---


(Traduzione di Pina Piccolo.)
---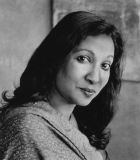 Meena Alexander è considerata uno dei più important poeti Indiani della sua generazione . Ha pubblicato sei volume di poesia tra cui Illiterate Heart (vincitore PEN Open Book Award), Raw Silk e Quickly Changing River ( TriQuarterly Books/ Northwestern University Press). Poetics of Dislocation è apparso nella serie Michigan Poets on Poetry. E' stata nominataa Guggenheim Fellow in Poetry. Attualmente abita e lavora a New York City. Www.meenaalexander.com