ABILE


Jo Shapcott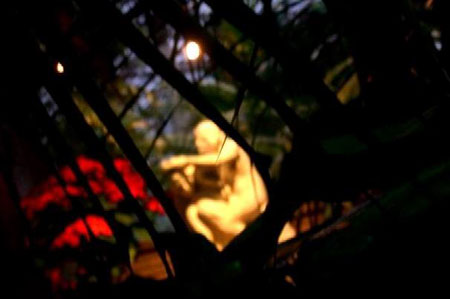 Nel 1988 presi la decisione consapevole di non rappresentare il mio corpo. Dichiara immediatamente il genere femminile e io volevo dimostrarmi più abile. (Helen Chadwick)
È tanto facile fare un'antibolla nella propria cucina
quanto lo è distendere una piega del linguaggio
rivelando ciò che ieri non hai saputo dire.
Basta spruzzare acqua sopra l'acqua
senza forare la tensione superficiale finché il liquido
avvolge un velo d'aria attorno ad altro liquido. Il mio corpo è
una goccia d'acqua. Può darsi che le imperfezioni, le cellule proliferanti
servano a fargli rifrangere l'intero spettro. Questi ultimi respiri,
l'aria, l'acqua che gorgoglia sulle mie labbra. Il velo di sapone è la mia pelle:
permeabile a certe cose, membrana, mi separa da altre,
questo e quello, il punto mobile interposto, l'inquieto
limite, che si distende e contrae con il respiro
che va e viene: sono questa, sono quella,
inspiro e divento tutto ciò che vedo.


(traduzione dall'inglese di Giovanna Zunica).

---


In lingua originale:


DEFT

Jo Shapcott


I made a conscious decision in 1988 not to represent my body. It immediately declares female gender and I wanted to be more deft. (Helen Chadwick)
It's as easy to make an antibubble in your own kitchen
as it is to open up a crease in language
and reveal what you couldn't say yesterday.
Just a matter of squirting water onto water
without snapping the surface tension until liquid
surrounds a skin of air, surrounding liquid. My body's
a drop of water. Maybe the imperfections, the proliferating cells
help it refract the full spectrum. These last breaths,
air, water bubbling at my lips. The soap film is my skin:
permeable-for-some-things, membrane, separating-other-things,
this and that, the moving point between, the unsettled
limit, stretching and contracting under the breath
that comes and goes: I am this one, I am that one,
I breath in and become everything I see.

---
Questa poesia fu pubblicata per la prima volta nel 2004 in una cartolina appartenente a una serie edita dal Barbican Centre di Londra. Ringraziamo l'autrice per l'autorizzazione a riprodurre la versione originale e a pubblicare la traduzione. Deft © 2004 Jo Shapcott; Abile © 2008 Giovanna Zunica.


---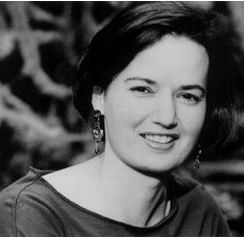 Jo Shapcott è un'affermata poetessa inglese. Insegna nel master in scrittura creativa della Royal Holloway (University of London) ed è Visiting Professor presso il Department of English Literary and Linguistic Studies della University of Newcastle e presso la University of the Arts di Londra. Vincitrice di vari premi letterari, è impegnata sul fronte della promozione della poesia e, dal 2005, è Presidente della Poetry Society. Ha collaborato con vari musicisti e diversi suoi componimenti sono stati messi in musica da compositori di spicco. Tra i numerosi titoli ricordiamo Electroplating the Baby , Bloodaxe, 1988 (1989 Commonwealth Poetry Prize for Best First Collection); Phrase Book , Oxford University Press, 1992; My Life Asleep , Oxford University Press, 1998 (1999 Forward Poetry Prize for Best Poetry Collection of the Year); Her Book: Poems 1988-1998 , Faber and Faber, 2000; Tender Taxes: Translations from Rainer Maria Rilke , Faber and Faber, 2002; The Transformers , Newcastle/Bloodaxe Poetry Lectures, Bloodaxe, 2007. Jo Shapcott ha curato varie antologie di poesia contemporanea ed è Consulting Editor per Arc Publications.


Precedente Successivo


Copertina