"(...)...a school for elaborating words, which teaches how to use them by writing, is the equivalent of a school which teaches how to construct one's own narrative identity, both individually and collectively." JMM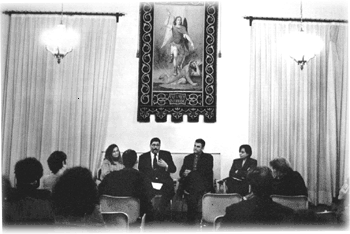 December 1999: presentation of the Sagarana school in the deanery of
San Michele, in Lucca.
How
The two year MASTER degree course will be held over a period of six months, from January to June 2001.
When
Two days a week, on Fridays and Saturdays each two weeks.
From 10.00 A.M. till 1.00 P.M. and from 2.30 P.M. till 5.30 P.M. , for a monthly total of 24 hours. This timetable will allow those who already have other working or studying activities to attend.
Important:
Until the minimum number of eight students is reached, students may establish their own personal program and timetable by attending only the lessons that interest them the most, separately from the Master. Fees will be calculated accordingly by deduction from the fee for the complete Master degree.
Coming to a different city may cause some economics problems.
We have reached an agreement with some hotels and private citizens who will provide students with comfortable and reasonable accommodation.
How much
- Lit. 2.700.000 each year or Lit. 540.000 monthly from January to May.